Czech Translation Services USA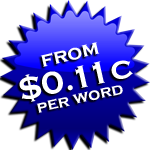 A simple way to overcome linguistic and cultural boundaries, your Czech Translation professionals will adjust their technique to suit your industry, communicating all the relevant nuances and technical details and terms involved.
Do you require Czech Translation? Stop searching now – because you have arrived at your one stop Czech Translation store, providing you an affordable and flexible solution to the translation necessities of your project. Regardless if your project is legal, medical, financial, commercial, technical, Bostico International has a team of Czech Translation experts eager to get started on your project right away.
Additionally, our Czech Translation team are experienced, qualified professionals, who are the best linguists with a flawless grasp of the languages they translate to and from. Fluent in both English and Czech, they are always able to convey the meaning of the material they are translating.
Any Czech Translation that requires a knowledgeable, adaptable and quick thinking translator can be performed – regardless of which format is required. How much would you expect to pay? Bostico International offers client's unbeatable value and fair prices with our flexible costing models. Visit our contact page and get an instant translation quote, online. By booking your Czech Translation service now, this allows us to match the most suitable team to your requirements. Each project has its own project and account manager, ensuring each service is implemented to schedule and on budget.
Choose the communication medium that is most appropriate to your Czech Translation. We offer you electronic, print, telephonic and audio formats. Have your work published in Czech; we will make sure you receive your professionally formatted, ready to print document back, completely redone in Czech.
As an innovative and diverse company, Bostico International offers you a holistic, personalised service - appropriate to all Czech Translation and interpretation requirements. These, amongst others, include conference interpreting, face-to-face interpreting, telephone interpreting, multilingual copywriting, language training and consultancy, DVD subtitles and production, voice recording, multilingual publishing, as well as website design.
It can also be incredibly hard to get a quality Czech Translation – only professional Czech translators whose native language is Czech will turn your English communication into a native Czech Translation. We can also offer you a United Kingdom native English translator to help you communicate in English as a native Czech speaker. Whatever your language requirements, and whomever you wish to talk to, whatever your situation, we can find a solution to suit you. Bostico International Translation Services is the premier provider of translation and interpretation services in the United Kingdom, additionally supporting the rest of the world through our online translation portal – www.translating-interpreting.co.uk.
Czech translations are available across the entire United States of America
Our top quality Czech translations are available in Manhattan, Los Angeles, Chicago, Houston, Phoenix, Philadelphia, San Antonio, Dallas, San Diego, San Jose, Detroit, San Francisco, Jacksonville, Indianapolis, Austin, Columbus, Ohio, Fort Worth, Charlotte, Memphis, Baltimore, Boston, El Paso, Milwaukee, Denver, Seattle, Nashville, Washington, District Of Columbia, Las Vegas, Portland, Louisville, Oklahoma City, Tucson, Atlanta, Albuquerque, Kansas City, Fresno, Sacramento, Long Beach, Mesa, Omaha, Cleveland, Virginia Beach, Miami, Oakland, Raleigh, Tulsa, Minneapolis, Colorado Springs, Honolulu, Arlington, Texas, Wichita, St. Louis, Tampa, Santa Ana, New Orleans, Anaheim, Cincinnati, Bakersfield, Aurora, Colorado, Pittsburgh, Riverside, Toledo, Stockton, Corpus Christi, Lexington, St. Paul, Anchorage, Newark, Buffalo, Plano, Henderson, Lincoln, Fort Wayne, Glendale, Arizona, Greensboro, Chandler, St. Petersburg, Jersey City, Scottsdale, Norfolk, Madison, Orlando, Birmingham, Baton Rouge, Durham, Laredo, Lubbock, Chesapeake, Chula Vista, Garland, Winston-Salem, North Las Vegas, Reno, Gilbert, Hialeah, Arlington, Washington, Akron, Irvine, Rochester, New York, Boise, Modesto, Fremont, Montgomery, Spokane, Richmond, Virginia, Yonkers, Irving, Shreveport, San Bernardino, Tacoma, Glendale, California, Des Moines, Augusta, Grand Rapids, Huntington Beach, Mobile, Moreno Valley, Little Rock, Amarillo, Columbus, Georgia, Oxnard, Fontana, Knoxville, Fort Lauderdale, Worcester, Salt Lake City, Newport News, Huntsville, Tempe, Brownsville, Fayetteville, Jackson, Tallahassee, Aurora, Illinois, Ontario, Providence, Overland Park, Rancho Cucamonga, Chattanooga, Oceanside, Santa Clarita, Garden Grove, Vancouver, Grand Prairie, Peoria, Arizona, Rockford, Cape Coral, Springfield, Illinois, Santa Rosa, Sioux Falls, Port St. Lucie, Dayton, Salem, Pomona, Springfield, Missouri, Eugene, Corona, Pasadena, Texas, Joliet, Pembroke Pines, Paterson, Hampton, Lancaster, Alexandria, Salinas, Palmdale, Naperville, Pasadena, California, Kansas City, Hayward, Hollywood, Lakewood, Torrance, Syracuse, Escondido, Fort Collins, Bridgeport, Orange, Warren, Elk Grove, Savannah, Mesquite, Sunnyvale, Fullerton, McAllen, Cary, Cedar Rapids, Sterling Heights, Columbia, South Carolina, Coral Springs, Carrollton, Elizabeth, Hartford, Waco, Bellevue, New Haven, West Valley City, Topeka, Thousand Oaks, El Monte, Independence, McKinney, Concord, Visalia, Simi Valley, Olathe, ClarksvilleDenton, Stamford, Provo, Springfield, Massachusetts, Killeen, Abilene, Evansville, Gainesville, Vallejo, Ann Arbor, Peoria, Illinois, Lansing, Lafayette, Thornton, Athens, Flint, Inglewood, Roseville, Charleston, Beaumont, Victorville, Santa Clara, Costa Mesa, Miami Gardens, Manchester, Miramar, Downey, Arvada, Allentown, Westminster, Waterbury, Norman, Midland, Elgin, West Covina, Clearwater, Cambridge, Pueblo, West Jordan, Round Rock, Billings, Erie, South Bend, San Ventura, Fairfield, Lowell, Norwalk, Burbank, Richmond, California, Pompano Beach, High Point, Murfreesboro, Lewisville, Richardson, Daly City, Berkeley, Gresham, Wichita Falls, Green Bay, Davenport, Palm Bay, Columbia, Missouri, Portsmouth, Rochester, Minnesota, Antioch, Wilmington. When providing a Czech to English translation, we will select linguists fom an English speaking country as this ensure the best results. When providing an English to Czech translation, we will select linguists living in their native language. All this is done to ensure the best possible translations.