Polish Translation Services USA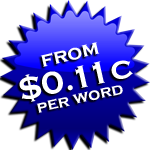 Bostico International is a leading provider of Polish Translation services in the Public Sector. We provide language services to many organizations as well as individuals. Bostico International recognizes the growing need to communicate in Polish in the UK and offers a wide range of services from translation to web-site localization in Polish language.
We provide Polish Translation services using linguists who have native language fluency in Polish as well as the target language. Our Polish Translators are familiar with the cultural aspects and make sure that your Polish translations are communicating the right message.
Bostico International has access to an extensive database of linguists specializing in Polish Translation and we pride ourselves in our ability to provide our clients with Polish Translation services specific in medicine, technology, education, environment or another area relating to their business.
Our linguists providing Polish Translation are highly qualified and adhere to a strict code of conduct. With over 16 years of reliable and consistently high quality service, Bostico International ensures that we provide you with the best Polish Translation services.
Our top quality Polish translations are available in Manhattan, Los Angeles, Chicago, Houston, Phoenix, Philadelphia, San Antonio, Dallas, San Diego, San Jose, Detroit, San Francisco, Jacksonville, Indianapolis, Austin, Columbus, Ohio, Fort Worth, Charlotte, Memphis, Baltimore, Boston, El Paso, Milwaukee, Denver, Seattle, Nashville, Washington, District Of Columbia, Las Vegas, Portland, Louisville, Oklahoma City, Tucson, Atlanta, Albuquerque, Kansas City, Fresno, Sacramento, Long Beach, Mesa, Omaha, Cleveland, Virginia Beach, Miami, Oakland, Raleigh, Tulsa, Minneapolis, Colorado Springs, Honolulu, Arlington, Texas, Wichita, St. Louis, Tampa, Santa Ana, New Orleans, Anaheim, Cincinnati, Bakersfield, Aurora, Colorado, Pittsburgh, Riverside, Toledo, Stockton, Corpus Christi, Lexington, St. Paul, Anchorage, Newark, Buffalo, Plano, Henderson, Lincoln, Fort Wayne, Glendale, Arizona, Greensboro, Chandler, St. Petersburg, Jersey City, Scottsdale, Norfolk, Madison, Orlando, Birmingham, Baton Rouge, Durham, Laredo, Lubbock, Chesapeake, Chula Vista, Garland, Winston-Salem, North Las Vegas, Reno, Gilbert, Hialeah, Arlington, Washington, Akron, Irvine, Rochester, New York, Boise, Modesto, Fremont, Montgomery, Spokane, Richmond, Virginia, Yonkers, Irving, Shreveport, San Bernardino, Tacoma, Glendale, California, Des Moines, Augusta, Grand Rapids, Huntington Beach, Mobile, Moreno Valley, Little Rock, Amarillo, Columbus, Georgia, Oxnard, Fontana, Knoxville, Fort Lauderdale, Worcester, Salt Lake City, Newport News, Huntsville, Tempe, Brownsville, Fayetteville, Jackson, Tallahassee, Aurora, Illinois, Ontario, Providence, Overland Park, Rancho Cucamonga, Chattanooga, Oceanside, Santa Clarita, Garden Grove, Vancouver, Grand Prairie, Peoria, Arizona, Rockford, Cape Coral, Springfield, Illinois, Santa Rosa, Sioux Falls, Port St. Lucie, Dayton, Salem, Pomona, Springfield, Missouri, Eugene, Corona, Pasadena, Texas, Joliet, Pembroke Pines, Paterson, Hampton, Lancaster, Alexandria, Salinas, Palmdale, Naperville, Pasadena, California, Kansas City, Hayward, Hollywood, Lakewood, Torrance, Syracuse, Escondido, Fort Collins, Bridgeport, Orange, Warren, Elk Grove, Savannah, Mesquite, Sunnyvale, Fullerton, McAllen, Cary, Cedar Rapids, Sterling Heights, Columbia, South Carolina, Coral Springs, Carrollton, Elizabeth, Hartford, Waco, Bellevue, New Haven, West Valley City, Topeka, Thousand Oaks, El Monte, Independence, McKinney, Concord, Visalia, Simi Valley, Olathe, ClarksvilleDenton, Stamford, Provo, Springfield, Massachusetts, Killeen, Abilene, Evansville, Gainesville, Vallejo, Ann Arbor, Peoria, Illinois, Lansing, Lafayette, Thornton, Athens, Flint, Inglewood, Roseville, Charleston, Beaumont, Victorville, Santa Clara, Costa Mesa, Miami Gardens, Manchester, Miramar, Downey, Arvada, Allentown, Westminster, Waterbury, Norman, Midland, Elgin, West Covina, Clearwater, Cambridge, Pueblo, West Jordan, Round Rock, Billings, Erie, South Bend, San Ventura, Fairfield, Lowell, Norwalk, Burbank, Richmond, California, Pompano Beach, High Point, Murfreesboro, Lewisville, Richardson, Daly City, Berkeley, Gresham, Wichita Falls, Green Bay, Davenport, Palm Bay, Columbia, Missouri, Portsmouth, Rochester, Minnesota, Antioch, Wilmington. When providing a Polish to English translation, we will select linguists fom an English speaking country as this ensure the best results. When providing an English to Polish translation, we will select linguists living in their native language. All this is done to ensure the best possible translations.